I recently took part in a 'no sugar week' on the ITV Lorraine show and even though I'm knowledgeable about food, ingredients and nutrition - what really shocked me is the minefield that is labeling on shop bought food items. If it can get confusing to me, then for people that don't cook regularly it must be damn near impossible to make any sense from this. Some of the biggest culprits are jars of readymade sauces, such as pasta or curry sauce. To me, even the way labels are designed are intended to deceive. A 500g jar giving sugar content per 100g is a great example, a quick scan of the label you will see grams of sugar but unless you read carefully and do some math's then unwittingly you may be consuming 4-5 times the amount of sugar than you think you are!!
When I was a young man many moons ago, I was jealous of my friends tucking into processed turkey drumsticks and potato shapes. It took me many years to actually realize how lucky I was to be fed home cooked meals lovingly cooked from scratch. Okay, plates of brown rice, mung bean and other interesting concoctions my Mother put in front of us weren't the tastiest (sorry Mum) but I know now that the intention was to give us the best start in life in terms of nutrition. It's no different now in terms of what I put in front of my daughter Indie. Let's be honest, we as parents are totally responsible for what our kids eat, our kids are not the ones who put food in the refrigerator and cupboards so it's up to us as parents to make the best choices possible.
The easiest way to know exactly what goes into our food is to cook from scratch using ingredients that are as natural and unprocessed as possible. The problem is that we have become accustomed to eating foods that have sweetness. So I guess the question is, how do we put a meal on the table that the whole family will enjoy without loading it up with refined sugar?
It's a slow process of changing both our taste buds and our perception of what food should taste like. Small changes like cutting down on your sugar in tea and coffee will help, but a lifestyle change is needed for long-term health not only for the kids but for you too! As I mentioned earlier it can be a real pain to get the little ones to enjoy food, and its very important that if you cook something and it doesn't quite hit the spot that you don't beat yourself up about it. Please don't get me wrong, I'm not here to preach, I love to treat myself and Indie! Food is a huge part of our lives, whether that involves a rich indulgent meal or tucking into my Achilles heel of Chocolate buttons, but what I have learned over the years is that moderation is the key.
So, here's what I did. My daughter Indie loves ketchup which when shop-bought can contain high amounts of sugar. I decided to come up with an naturally sweet all-purpose tomato sauce, it's amazing diluted down with some stock as a soup, a dip, thickened for a punchy pasta sauce or in this case a great tomato base for a pizza! The sweetness comes from slow roasting naturally sweet tomatoes, this intensifies the flavour. Damn its soooo good. I've included the recipe and some pictures to help you but its very simple and most importantly its delicious and has none of the hidden sugars you would find in shop bought tomato sauces. Give it a try, I promise you wont be disappointed. A great tip would be to make this sauce in bulk too and freeze into individual portions ready for when you need it.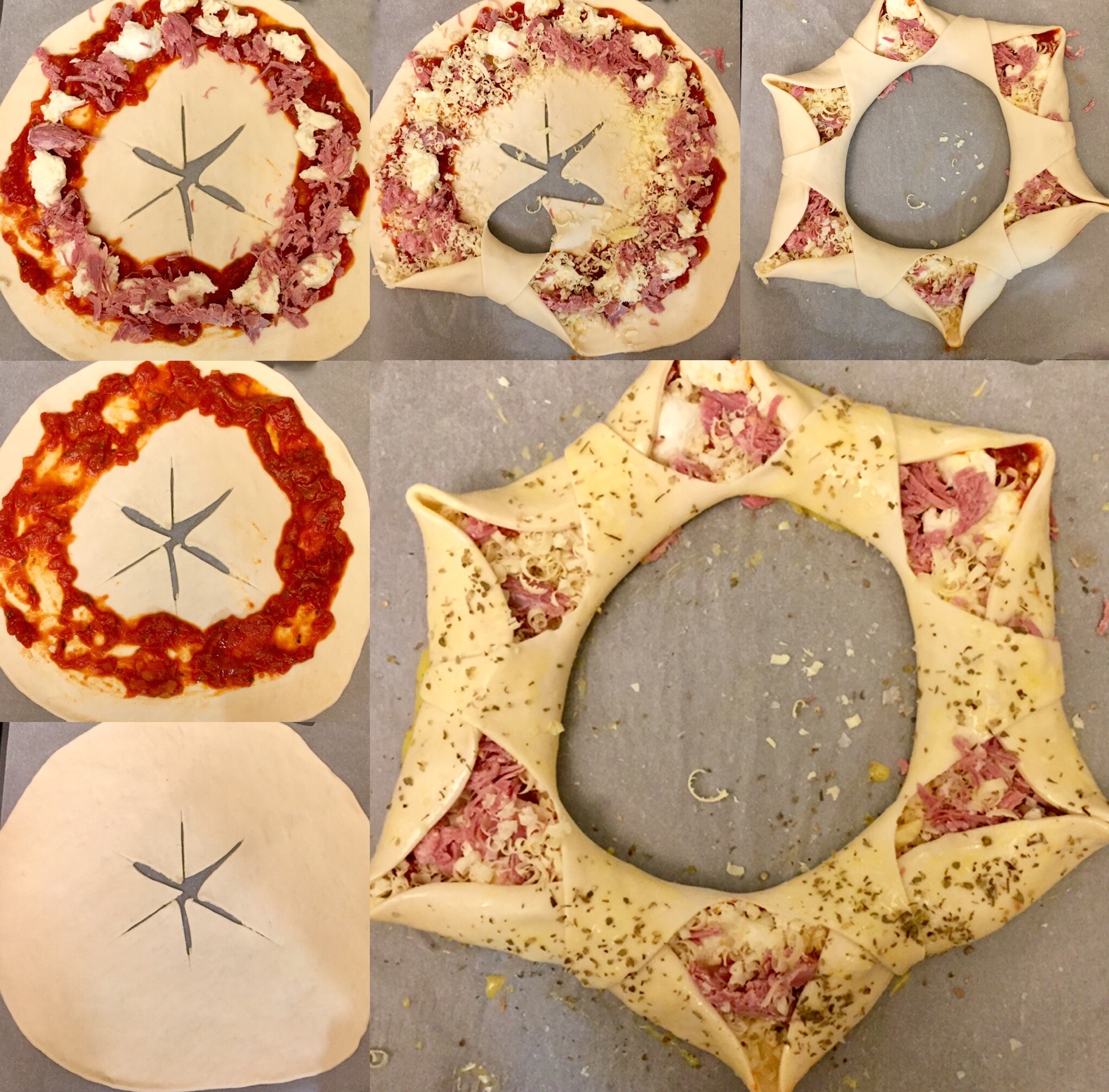 Star Shaped Sugar Free Pizzas
1 box ready rolled pizza dough
All Purpose Tomato sauce:
1 tbs oil
300g Sweet cherry tomatoes
1 red onion diced
3 cloves garlic crushed
1 tsp dried oregano
40g pepperoni sliced
½ jar roasted red peppers sliced
150g mozzarella sliced
1 egg beaten
½ tsp dried oregano
Fresh basil
Method:
Place the halved tomatoes onto a baking tray, drizzle with oil, season with salt and pepper then roast for 20 minutes in an oven set at 180c / gas mark 4. Meanwhile, sweat without colouring the onion and garlic for 5 minutes,
Add the oregano and season with salt and pepper. Place into a mini blender along with the tomatoes then blitz until smooth.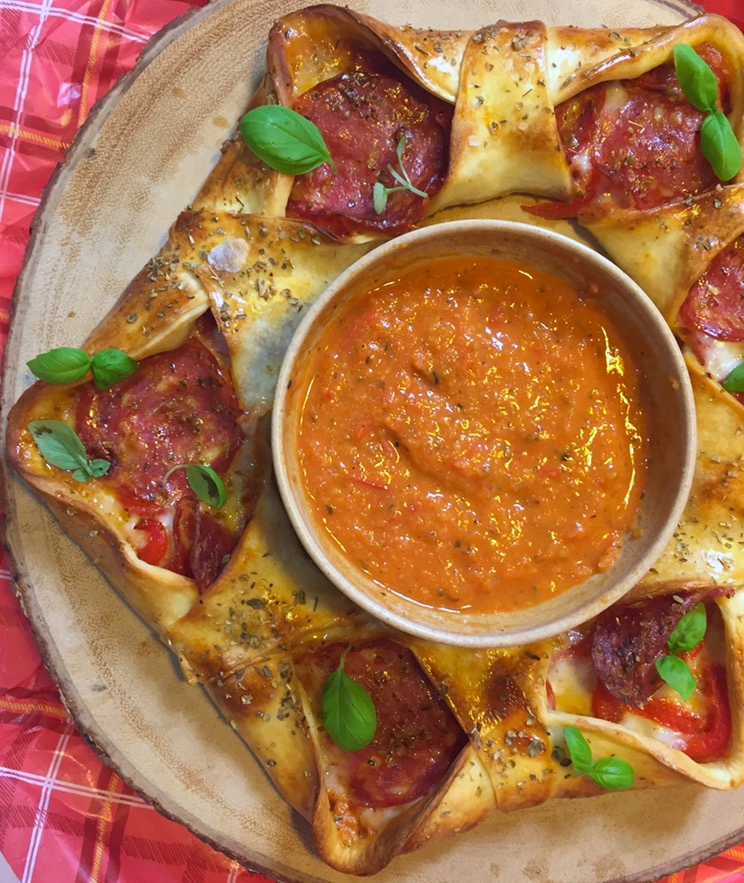 Shape the pizza dough into a 12" diameter then place onto a lined baking sheet then cut an X into the centre of the dough followed by a vertical cut to form a star using a pizza cutter or sharp knife. Spread some of the tomato sauce onto the base making sure you leave a 1-2 cm gap around the edge and around the star. Place on the pepperoni, peppers and mozzarella which has been pulled into small pieces, pull up the edge of the dough to meet the centre cut then fold over, repeat until you have a wreath shape then egg wash and sprinkle with the dried oregano and a pinch of salt.
Cook in a preheated oven set at 200c / gas mark 6 for 20-25 minutes or until the crust is golden. Top with some fresh basil leaves then place a small bowl into the centre of the wreath filled with the remaining tomato sauce for dipping. Alternatively you can fill with salad.