The one thing really worrying me is who are our children growing up to idolize? Like it or not we are growing up in a digital age. It seems that kids, Indie included are obsessed with YouTube vloggers. If you are a parent and you allow your little ones time to tune into the likes of 'Its Jojo' and 'Shot of the Yeagers' (God the mum's voice is annoying) you will realize that the kids are dragged right into this virtual world. In my day, yes I know that was a long time ago, my virtual world came from reading books. By reading a book with very few or no images I was forced to use my mind, the magical worlds these fantasy characters inhabited were designed and relived through my own very vivid imagination. Many years on this is still commonplace and I am not ashamed to say that I got totally lost in the Harry Potter series not too long ago.
As its National Book day I thought it appropriate to make books the focus of this week's post. Why not try to inspire our kids to read every day and not just draw attention to this one day a year. So the question is this, how do we sway our little darlings away from watching mindless TV and YouTube and turn them into bookworms? With that in mind I approached Bristol author Mark Lemon, owner of Lemon Drops Publishing to gain insider knowledge on how to inspire our kids to read.
Mark you have a very interesting story, what made you decide to switch careers and start writing children's books?
I quickly realised that I had found a passion and after great feedback when reading to school assemblies of 400 children, I decided that I wanted to write children's stories full time. So I took that scary leap of faith. It was one of the biggest career decisions I have ever had to make, but it felt right. I had my wife's backing and support, which is the most important thing. Thankfully, the family love the books! When I first started writing the stories in blog form, I test read them to Otis at bedtime. Professor Poopy always got a laugh, which made me want to continue to write for the kids. I was extremely lucky to find Maia Walczak (illustrator) through an old school friend. It started by sending over a couple of stories to Maia and some images of ideas for how I wanted the characters to look. Everything she sent back was amazing and we clicked from the off. Her style is different to anything else out there and this attracted me to working with her.
You are obviously very passionate about inspiring our children to read, do you have any tips on keeping our kids inspired to read?
As a parent myself, I completely understand that it can be tricky to engage with your child when trying to read with them. If your child is studying particular subjects at school, discuss with them what specific parts of the subject they most enjoyed. Once you have pinpointed what engaged them most, start to look for books/reading material together; this way your child should start to read for enjoyment, instead of it feeling like an after school chore. Another way of engaging with children is to simply get them to story build their very own adventure. What characters would they have? Where would the story be based? What would they like the message to be in the story? Make it fun, use colours, pens and pencils. These are just some of my own personal ideas, but you might have some of your own, as you know your child best.
Ok I'm going to play devils advocate here, sometimes I'm shocked by the price point on some of the books I come across in the shops, with many families out there surviving on very limited budgets, how do we make reading all inclusive?
Books can be expensive, but there are a lot of great deals out there. The larger bookstores are very quick to reduce any stock, bringing down the prices. I hate to say it but if you have a good search online you can also get some great deals. I personally believe that if your child shows a passion for reading, then the value of a book is worth spending that little bit extra. A lot of schools are always looking for books for the libraries, and I'm sure they would be happy to take any old books off your hands. Our books are great value, but that's my own personal opinion!!
Its my personal viewpoint that the buck stops with the parents when it comes to reading, I know from personal experience that its easier sometimes to pop them in front of the T.V. - what are your thoughts?
I agree with you. The buck has to stop with the parents. UK schools are under a large amount of pressure to increase the performance of child literacy. I've received a large amount of feedback from teachers frustrated that when children get home from school, this is where the reading stops. As mentioned in the previous question, schools need to find ways to engage parents when reading with the children. Another common underlying problem is that a large number of parents don't read themselves, or simply aren't confident enough when reading with their kids. It can be the easy option to just stick the T.V. on when the kids get home from school but, at least read with them before bedtime, so you still maintain the interest in reading/books.
Tell us where we can find these amazing books and how we can contact you?
Our books are available from our website www.lemondropbooks.co.uk Waterstones.com, Foyles.com, Amazon and all great independents across Bristol, and further afield. If you want to book Lemon Drop Books for a school author reading & workshop visit then please get in touch with my author agency, Authors Abroad at trevor@caboodlebooks.co.uk You can also just get in touch with us via the 'contact us' on the website.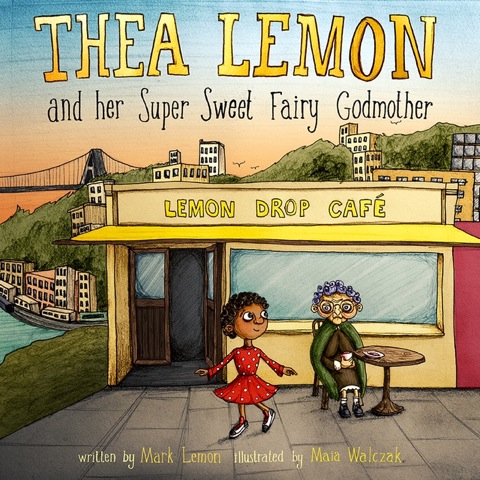 As Mark said, books can be expensive, but we can't deprive our children the opportunity to develop a passion for reading. It's often been said, mostly by my friends, that I'm a bit tight. To be honest, I do begrudge breathing out sometimes, but I like to think its more along the lines of being sensible, none of us have unlimited budgets. One way I do like to save money is by visiting charity shops, Indie goes wild, picking up several books for the price of one, she feels spoilt and I feel even better! The public library is also a vastly underused resource, I recall the days spending hours on end flicking through books in my local library, best of all not only can you kill time with the kids but its also free. Take advantage of some of the community parent/coffee groups held in some library's, a great way to meet like minded people.
When it comes to reading I think it's important to find out what works for your child, on the nights that I have Indie we try to read. I find that straight after school is a good time as she normally is excited to show me the new book she has picked out from school. I also try to find a subject that we can connect over and find a common ground. For us its sharks, I get a total buzz from the fact that Indie can name and identify the different sharks that roam our seas. I suppose this runs parallel to the way I try to inspire Indie to cook, find a common bond and encourage her for the rest of her life.